Tricount, Aion and Mastercard join efforts to transform shared expense management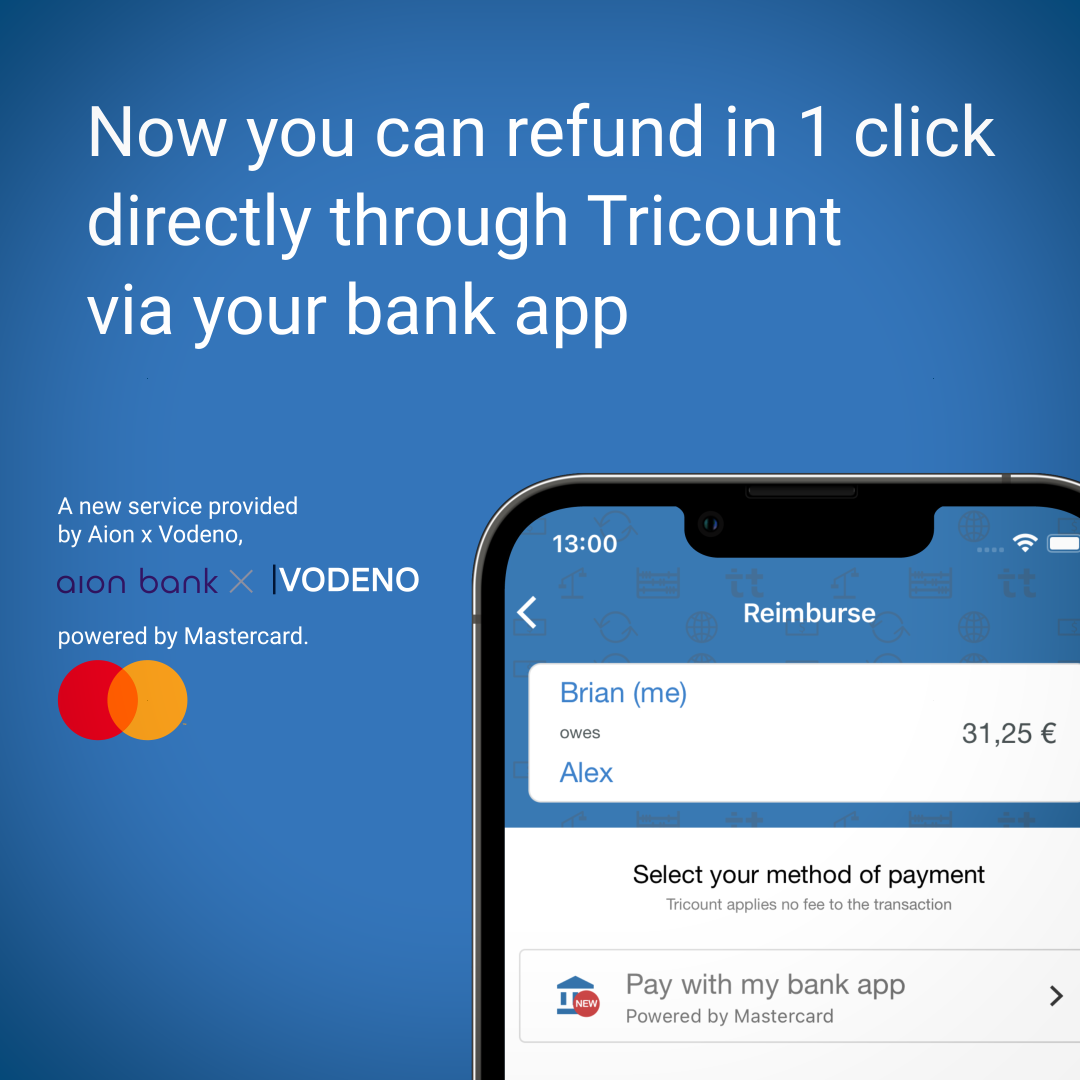 Tricount users can now reimburse expenses through direct bank-to-bank transfer in the app. Connection to users' bank accounts is enabled by Aion Bank and Vodeno. Aion Bank and Vodeno are part of Mastercard's Fintech Express programme aimed at connecting digital players and driving collaboration.
Brussels, 30 March 2022 - Tricount, a leading pioneer in group expense management, Aion Bank, a European licensed digital bank and Vodeno, a cloud-native Banking-as-a-Service provider, have partnered to launch Tricount's new service, which allows its users to reimburse expenses in its app through direct bank transfer. The three companies were introduced through Mastercard's Fintech Express programme, which gives start-ups and emerging brands support and assistance for every stage of their growth and transformation, from market entry to global expansion. Through the programme, fintechs are able to leverage Aion Bank's ECB licence, compliance and regulatory expertise and Vodeno's VODENO Cloud Platform (VCP), one of the most comprehensive banking platforms, operating entirely in the cloud.
Tricount allows its users to split bills quickly and easily, categorise expenses by type and settle outstanding balances via integrated payment methods. The free-to-use app revolutionised expense management when it launched in 2010 and has grown to become popular with young people who 'make a tricount' whenever they need to split bills. Tricount currently serves more than 5.2 million registered users. The new in-app payment functionality removes the final layer of friction in the expense management process and makes calculating and splitting bills quick and simple. Tricount users can now send money in the app directly from their bank account, anytime and fully remotely without the need to share IBANs.
Tricount's new feature is powered by Aion Bank and Vodeno, who offer white-label embedded finance solutions to financial and non-financial businesses. Aion Bank and Vodeno will link the Tricount app to users' bank accounts and initiate payments. Tricount users who want to make direct bank transfer payments in the app will now be able to do this in one seamless experience. Mastercard Open Banking technology serves as the backbone that allows Tricount users with a *Belgian bank account to send and receive funds.
Guillebert de Dorlodot, who co-founded Tricount with Jonathan Fallon said: "We launched Tricount to make sharing of bills between friends and family easier. For the last 10 years, we have observed triple digit annual growth. Repayments with direct bank transfers was a long awaited feature for our Belgian users, and we believe this is one of the first PSD2 integrations that truly makes sense for consumers."
Kim Van Esbroeck, Country Manager of Aion Bank Belgium added: "Together with Vodeno and, in partnership with Mastercard, we offer innovative, embedded banking services to both regulated and non-regulated entities. Tricount is a good example of our ability to offer payments-as-a-service and innovate this space. Our entire spectrum of products include: deposits, investments and lending together with cards, payments and KYC through our open APIs that can easily connect with any fintech's frontend."
Henri Dewaerheijd, Country Manager, Mastercard BeLux said: "We are pleased that our fintech partners Aion Bank, Vodeno and Tricount have chosen the Mastercard Open Banking Connect network to enable easy transfer of funds between Tricount users. Mastercard's mission is to enable safe, simple and secure payments and, with this as a first for Mastercard in Belgium, we enable innovative applications for payment initiation or data services directly in fintechs or merchant apps."
###
About Tricount
Tricount is the European leader in group expense management. The Tricount app allows users to register and balance their expenses during activities with friends. Tricount currently serves more than 5.2 million registered users . Headquartered in Belgium, it operates globally, with a special focus in France, Spain, Germany, Belgium and Italy.
About Aion Bank and Vodeno
Aion Bank and Vodeno are acting as commercial partners with a mission to revolutionise the Financial Services industry. Combining a modern cloud-native '360' platform ecosystem, a European banking licence and a team of banking experts, we are uniquely positioned to offer comprehensive embedded financial services for banks, lenders and merchants regardless of size or sector. Covering all areas of the banking ecosystem, from 'smart contract enabled' core banking to accounts, onboarding, payments, cards, investment and lending solutions, Aion and Vodeno offer the ability to meet the demands of regulation while enabling innovation at speed.
Aion Bank and Vodeno are separate companies and backed by global private equity firm Warburg Pincus LLC.
About Mastercard (NYSE: MA)
Mastercard is a global technology company in the payments industry. Our mission is to connect and power an inclusive, digital economy that benefits everyone, everywhere by making transactions safe, simple, smart and accessible. Using secure data and networks, partnerships and passion, our innovations and solutions help individuals, financial institutions, governments and businesses realize their greatest potential. Our decency quotient, or DQ, drives our culture and everything we do inside and outside of our company. With connections across more than 210 countries and territories, we are building a sustainable world that unlocks priceless possibilities for all.
Follow us on Twitter @MastercardEU and @MastercardNews, read more about our global impact in Perspectives, and subscribe for the latest news from the Mastercard Newsroom.
www.mastercard.com.
*ALL Belgian banks are able to receive funds from Tricount users.