How Belgians Invest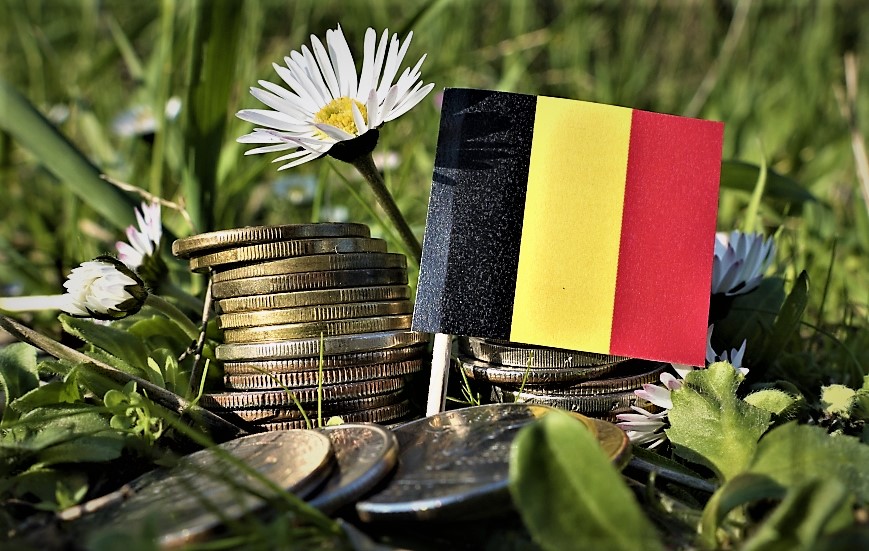 Rising inflation is impacting the value of our money. This means people will need to find smart ways to invest in order to grow their money. Our latest survey of more than 1,000 Belgians helps to understand how we feel about investing and sets out to discover current investing behaviours. What do we invest in? How much is invested? How have these habits changed due to the pandemic?
1 in 5 Belgians invest in stocks & shares
According to our survey*, the vast majority of those who invest do so in the most conventional ways. 20% of respondents invest in stocks and shares, whilst 19% invest in property.
Not far behind is a fairly new commodity; 16% of Belgians that invest choose cryptocurrencies, and 1 in 4 35- to 44-year-olds claim to hold some form of crypto. Also noteworthy is 13.5% of respondents said they invest in ETFs (exchange traded funds).
Furthermore Belgians are investing in mutual funds, luxury goods, government bonds and art & collectibles.
Besides not having the funds, notable is also that 24% of our respondents said they did not invest due to a lack of knowledge, whilst 15% found investing too complicated.
"The results of our survey revealed some surprising insights to Belgian investment behaviour, but it is clear that the changing saving climate of low and negative rates is pushing people to search for other ways to grow their money," says Kim van Esbroeck, Country Head at Aion Bank. "Certainly, in this time of increased inflation people need to be smart with their savings, therefore, being educated on different investment options is important."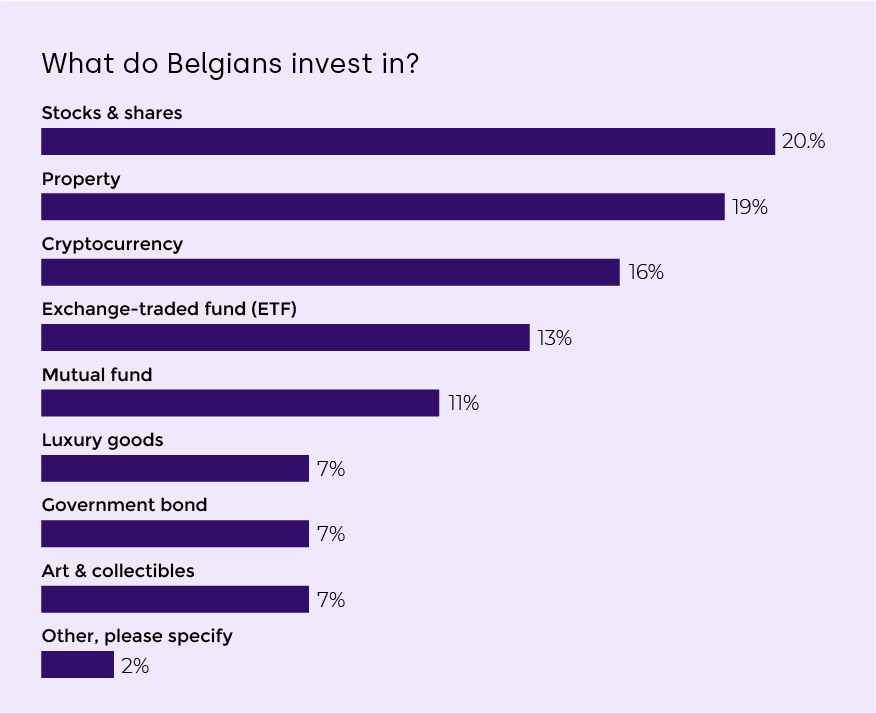 Belgians' prime reason for investing is the low interest on saving accounts
Across age groups, Belgians see the lack of good interest rates on regular saving accounts as their main motivation to invest.
Additionally, 35% of Belgians invest because they're looking for better potential, 38% invest to make more money and 35% invest as an additional way to save up for retirement.
This was the opposite for the youngest age group of 16 to 24 year olds; their main reason for investing is to save up for a future significant purchase, such as a car or property.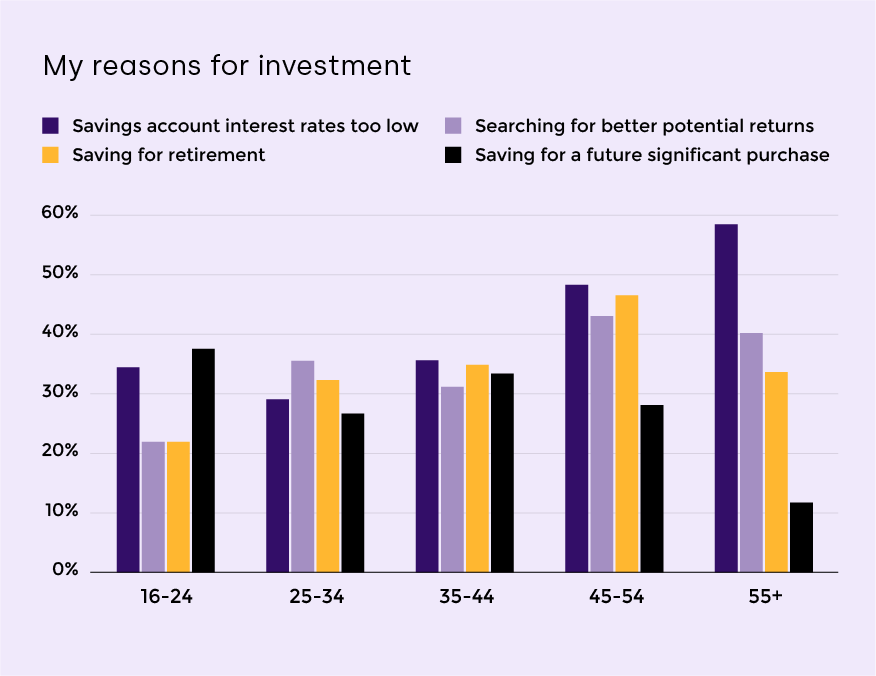 Since the pandemic, Belgians do more research before investing
The primary change we see in Belgians' investing behaviour is that 28% of them spend more time researching before putting their money in an investment. This may be due to the fact that we have more time on our hands or more access to information, but it is clear that those who are investing are being more considered before making decisions.Despite many stating that they do more research, only 56% of respondents are aware of how much fees they are paying in order to invest.
Despite many stating that they do more research, only 56% of respondents are aware of how much fees they are paying in order to invest.
Nearly 1 in 4 Belgians, 24.91% of our respondents, have diversified their investing portfolio over the course of the pandemic, whilst 12.20% have changed the type of assets in their portfolio.
Additionally, over 1 in 5 (22%) of Belgians say they invest more now than they did pre-pandemic. Even more noteworthy is that 44% of the 16- to 24-year old group is said to invest more in 2021 than before the pandemic. Alternatively, 16% of Belgians now invest less.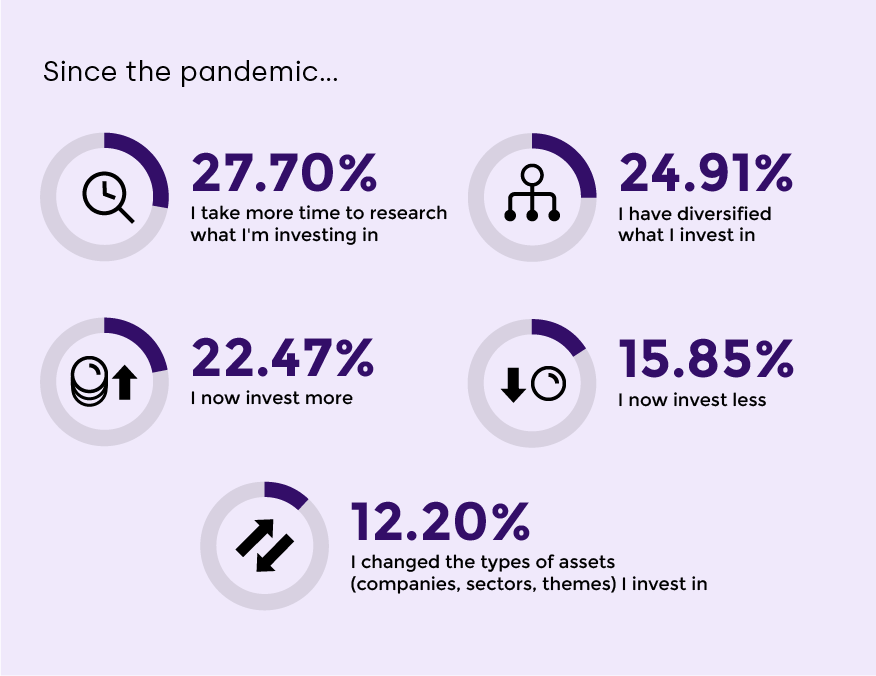 Brussels people invest the most
Our survey results also show data specific to some of Belgium's major cities. Brussels is revealed to have the most investing residents, with just 36.69% of respondents saying they don't invest, implying 63.31% do invest their money. The majority of them invest in stocks and shares. Additionally, Brussels is the city that invests most in crypto, with 19.33% of investments going towards digital currencies.
Respondents to this survey from Antwerp invest the least. Those that do, however, invest most in mutual funds, ETF and property.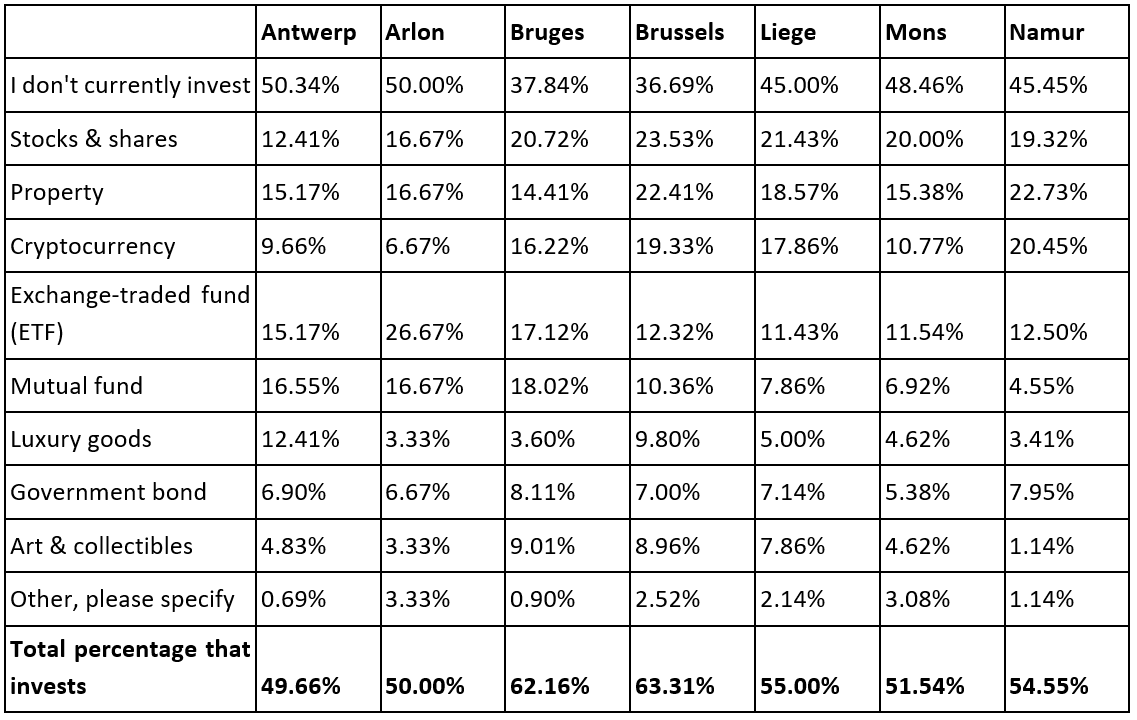 "The pandemic has changed our habits and our lives," adds Kim Van Esbroeck. "Belgians are looking for new ways to invest their money and expect more from their bank in creating an added value. We believe that our ETF portfolio management services offer the right balance between investment risk, return and cost efficiency."SURVEY RESULTS - KEY FINDINGS
SURVEY RESULTS - KEY FINDINGS
1. Why don't you invest?
53% do not have the funds to invest

31% of women feel they do not know enough to make the right decisions

Over 1 in 4 of 16-24s find it too complicated
2. How often do you invest?
The vast majority of people invest on a monthly basis

1 in 10 invest only once a year
3. What percentage of your income do you invest?
22% of 16-24 year olds invest over 10% of their income, the highest proportion of any bracket

88% of women invest less than 10% of their income
4. Why do you invest?
58% of over 55s invest as savings account interest rates are too low

Over 1 in 5 16-24s investing for retirement
5. What is the overall average annual return of your investments?
42% of people have returns between 0-5%

20% of men have investments above 10% returns
6. Do you know if you pay fees/commissions on your investments?
1 in 4 people don't know that they pay fees/commissions on their investments

35-44 year olds are the least informed about their investment
7. Do you know what % of your investments you pay in fees annually?
Over half of those surveyed pay between 1-2.5%
8. Why did you choose your current investment product?
36% invest in their current product because it's easy

Nearly 1 in 5 use their product because it has a low amount of fees

More men invest in a product with low risk than women
Interested in investing, too?
ETF portfolio management at Aion Bank is easy and accessible**. First, Aion's process to determine a member's risk appetite is fully digitalised, through a questionnaire in its app.. Aion then presents portfolios, built by its investment experts, that match the member's risk profile. Currently, Aion offers ETFs from investing services in two portfolio categories: Global ETF, focusing on the global economy, and Progressive ETF, analyzing and focusing on technology, healthcare and clean energy.
Portfolios are constantly controlled and rebalanced through Aion's proprietary platform in order to stay aligned with the member's risk, which means their technology does the heavy lifting so its members don't need to put in time and effort.***
ETF portfolio management is included in Aion Bank's 19 € monthly Premium membership fee all taxes included, no additional charges or commissions.
* Online survey carried out by Censuswide for Aion Bank from 11.06.2021 to 15.06.2021, 1001 respondents.
** Investing involves many risks. Conditions apply. More information via: https://aion.eu/be-en/asset-management
*** Conditions apply including minimum initial investment amount of 100 EUR. More information via: https://aion.eu/be-en/asset-management